Facilitating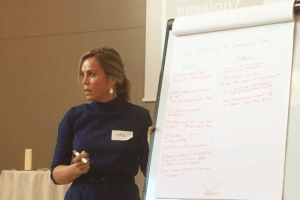 More and more companies are asking for assistance in facilitating meetings, conferences or theme days. They often need assistance with lifting the energy level and attention of the participants or with facilitation a solution to organizational conflicts.
A facilitator is a kind of conductor that ensures everyone is on the same page and that they participate and leave the event with an experience of being both seen and heard and also having listened, discussed and received knowledge themselves.
I have experience with a wide array of facilitation tasks – both at executive, management and team level.
Misalignment at management level
Are you experiencing that the management team is not aligned when it comes to significant organizational decisions?
Do you leave management meetings with the experience of not being heard, included or that there is conflict within the team?
Do you experience that while there seemed to be unity at the meeting, the organization operates in a way where it is clear to the employees that you are not truly aligned?
If you can say yes to one or more of the above, you risk the formation of silos in your organization and that employees fight each other about decisions, resources, or that they even work against each other's goals.
Every management team should pause the second they see indications that internal battles occur between the teams and investigate: Is the problem due to our misalignment? Do we communicate the same messages? Do we have the same motives, goals and direction?
As a strong and experienced facilitator, I participate in your management meetings and help ensure decision making, alignment and mutual commitments.
With authorization to intervene, investigate and create an understanding of the unhealthy dynamics that are at work underneath the surface, I make impossible conversations possible.
Honest and crucial conversations are necessary to create true alignment, real and lasting commitments as well as decisions that create organizational cohesion.
Let's talk
Contact me today, and let's have a talk about what I can do for you and for your organization. Call me at 51 23 00 54 or write me at ssh@humanimpact.net.
Contact me now - Click here!